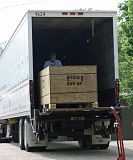 It's been almost two months of limbo, but this week our shipment finally arrived in Shanghai. We put it on the truck and said goodbye back in the beginning of May, and waited (im)patiently for it to follow us half-way around the globe. Now that it's here, it finally feels like we're HOME. I've spent the last four days unpacking spices, knick-knacks, books, clothes, craft supplies, kitchenware... I'm tired but oh-so-happy.
We've been back in Shanghai since mid-May; we've been having fun getting to know our new neighborhood and revisiting some of our old haunts. Prices are definitely much higher than when we left, and with the current exchange rate we have even less buying power. But bargains can still be found if you just look hard enough!
All in all, it's good to be home.