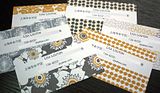 So here it is- my very first Photoshop project! I know, I've been using this paper a lot – but it's the only nice digital paper I have to work with (the rest is all freebie stuff that doesn't really look all that great). It took me a while to figure out what I was doing, but I'm finally starting to get the hang of things (after SEVERAL missteps, lol).
I created each individual calling card as a new blank file, at 3.58"w x 2.16"h. After opening the digital papers that I wanted to use, I resized each paper from 12x12" to 6x6", which gave a better scale for the small dimensions of the cards. I then dragged each paper onto a blank calling card, added a white rectangle and inserted my text. Once each card was to my liking, I flattened the images, opened a new 8½ x11" blank file, and dropped in my cards. A little moving around to get everything just so, flatten the image, and easy peasy! Save and print! For completely winging it, I think they turned out pretty cute.
Cards like these are great when you're in a second-language situation and don't want there to be any mix-ups with your contact information (like in our case where there is another street that sounds very similar to our street – better to have it written out than risk having something sent to the wrong address!). I'm sure I'll be tinkering around with other patterns/designs in the future, but for now these will do the trick!
Products used: Andrea Victoria "Pina" digital paper pack, Trebuchet MS font, SimHei font, PSE6