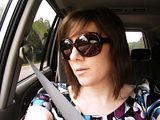 I'm having one of "those days" today. The kind of day where you can't stop thinking about the things you're missing out on back in the States: friends, family, the whole "back to school" flurry, your home Community… and of course that leads to missing more specific things, like going (in your own car!) to Wal-Mart, that big wall full of (English) magazines at Barnes & Noble, the $1 stamp bin at Michaels, music departments packed with every imaginable genre of English music, a Turkey Artichoke Panini & Turkey Chickpea Chili combo from Panera Bread… Even though it's only late August, I'm jonesing for all of those iconic American "autumn" things: pumpkins and mums and scarecrows and leaves and yards decorated for Halloween. Yesterday I even bought a set of Studio G Halloween stamps on e-bay. Really, what in the world do I need Halloween stamps for?! I don't have any children; China doesn't celebrate anything remotely like Halloween; in fact, my family really didn't even do the whole Halloween thing when I was growing up. But for some inexplicable reason I feel compelled to find even the tiniest way to participate in that little bit of Americana.
I think it's just that fall has always been my favorite time of year. The crisp, cool air; the smell of burning leaves; wonderful rich colors everywhere you look; cardigans and caramel apples and warm pumpkin bread. It's birthdays and bonfires and new clothes for school. It's costume parties and warm soup and long walks outside. A few of those things can be replicated here; most can only be tucked away as a lovely memory to be relived over a cup of coffee. In four years I'll have my chance at another American Autumn, and I'll relish every glorious moment. But until then, I'll just have to find my own little ways to celebrate the changing of the seasons.
Don't get me wrong – I love China, and I know this is where we're supposed to be. But life isn't always sunshine and roses (no matter where you live), and this is just me being transparent, putting a little of myself out there. I wouldn't give any of this up for the world; but it's good to be able to vent a little every now and then.