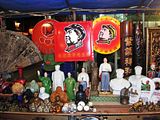 October has been birthday month around here! China had a birthday (Oct 1st - the 60th anniversary of the founding of the People's Republic of China); Seth had a birthday (Oct 2nd); I had a birthday (Oct 9th)…
Seth's birthday was a quiet affair. We chose to stay in due to the crazy huge 8-day national holiday that was in progress (our city alone had over 5.8 million tourists) – public transportation would have been a nightmare! (A lesson we learned the hard way during previous holidays.) So, while the rest of the city was out celebrating, we stayed at home and had a special treat of taco salad and homemade carrot cake.
My birthday fell the day after the holiday ended, so things were much less crowded. We tried out a little Italian restaurant (it wasn't bad, by China standards), and listened to live jazz later that evening. But I think the best part of the day was walking hand in hand around a park after dark: cool autumn breezes; city lights reflecting off the surface of the glassy lake; couples sharing private moments on secluded benches; the off-key warble of karaoke drifting on the night air. (Yes, that's right – it's a common sight here to see large groups of people by the side of the road, crowded around a portable karaoke machine and taking turns belting songs into a microphone. On this particular night, some of the more competitive participants had even come in opera costume – including headgear. Fun times.) All in all, it was a pretty special birthday. No fancy presents or expensive dinners, just time spent with the guy I love more than anyone else in the whole world. What more could I ask for?